Petrol vs Electric: Which is Right for Me?
02 August 2023. 09.03 AM
Back to blog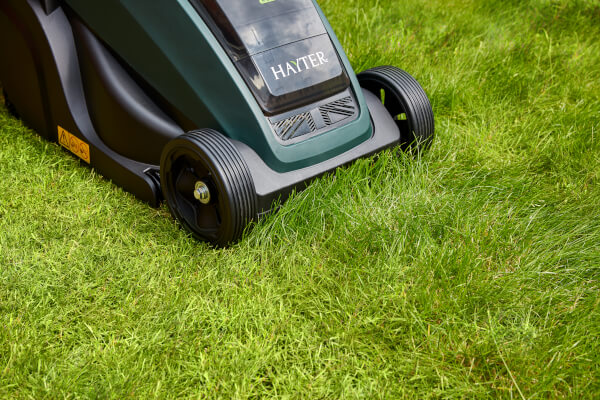 Petrol vs Electric: Which is Right for Me?
When choosing the perfect mower for your garden, there are plenty of considerations to take into account. After selecting the right machine for your garden, we have plenty of other specification options for you to choose from to ensure you enjoy the best mowing experience possible.
For many, the choice between petrol and electric is a personal preference. Many customers have used our petrol mowers for years and tend to stick to what they know. If you're choosing your first Hayter® mower, however, the decision can be more difficult. With so many options to choose from, the process can be daunting, so here's a few tips on choosing the right mower for you!
Accessibility
We pride ourselves on our ability to make our mowers as accessible as possible – so both our petrol and battery mowers are easy to understand and easy to start. Our battery mowers are cordless, offering you the power and freedom you need to tackle an unruly lawn.
Some of our newer petrol models are equipped with our electric start technology, which makes getting started even easier. One push of a button is all it takes to get going – so it's even simpler than a traditional recoil start. You can find this technology in our battery-powered Harrier®, Hawk and Osprey models, as well as some of our petrol Harriers.
Mowing performance
Whether you choose a petrol or electric mower will not affect your mowing performance. All of our models are designed to provide the same level of quality that our mowers are synonymous with. The majority of our models feature our trademark rear roller, so you can enjoy classic lawn stripes with ease.
In terms of recommended lawn sizes, there won't be any difference between electric and petrol versions of the mower. For example, our petrol Harrier 41 is suited to gardens up to 300m2 – the same as our battery model.
Both types of mowers will require yearly servicing to ensure top performance. With a petrol mower, there are other steps that can be taken to ensure premium performance is maintained and our premium fuel treatment ensures clean and reliable engine performance.
For those looking for an alternative to petrol, our battery mowers offer zero-exhaust emissions, no fumes and low noise for maximum comfort.
Additional Features
Some of our mowers have model-specific features, which could also influence your choice. For example, our Blade Brake Clutch (BBC) system allows you to stop the blade whilst using the drive of the mower to cross gravel to another lawn. This feature is only found in our petrol Harrier models.
Ultimately, your decision can come down to which mower you feel most comfortable with. If you've got previous experience using our mowers, you might be suited to one of our petrol models. We've used Briggs and Stratton engines in our petrol mowers for decades, so if you're confident navigating and operating a petrol engine, a petrol mower could be perfect for you.
Meanwhile, our battery models are designed to be as simple to use as possible – simply plug in your 60V battery and you're away. A battery option could be the better choice for you if this is your first mower. Our battery models offer an additional element of convenience if you've got a Toro-branded strimmer or leaf blower, too – the battery can be used interchangeably with all Toro garden tools.
To find out more technical information about our mowers, you can request one of our brochures here. If you're looking to join the Hayter family, we would recommend finding your nearest approved Hayter dealer, so you can get to know the quality of our products first hand! Locate your nearest dealer here.