Post-lockdown Preparation: 5 Top Tips for Transformative Small Garden Makeovers
22 November 2021. 09.36 AM
Back to blog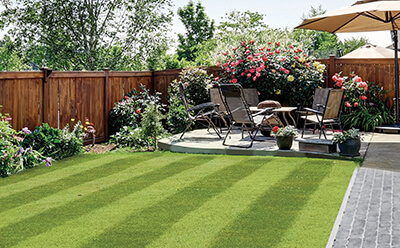 When it comes to small garden makeovers, it's essential to learn the dos and don'ts from an expert source to ensure your garden not only looks phenomenal but remains functional and easy to maintain. Read on to learn our Hayter®-approved tips on how to make a small garden look bigger.
Since the long-awaited announcement that government restrictions are gradually easing and the chapter of lockdown may be behind us, many of us were elated at the thought of reunions with our family and friends; and naturally, many of us went into house preparation overdrive.
Almost one-third of Brits have invested in their gardens as a result of lockdown according to MoneySuperMarket. 28% of UK homeowners will be splashing out more on their gardens because they believe it's a good investment and 21% will do so as they are anticipating welcoming company to their outdoor space. With vast numbers of people throughout the UK gearing up for summer reunions and preparing to host post-lockdown gatherings for loved ones, there is more onus than ever to make our homes and gardens look incredible.
For those with small contemporary gardens, it can be difficult to know where to begin when it comes to optimising your outdoor haven for the arrival of guests. Luckily, the experts here at Hayter® have simplified the process with our step-by-step guide to maximizing the space in your smaller garden.
1. Incorporate Strategic Seating
In small contemporary gardens, it's vital to consider the size of your seating and tables in order to make the most of that limited space. Large tables and sofas can dominate the space and detract from the garden's natural beauty, so it's essential to choose clever furniture pieces that enhance the area rather than overwhelming it. Multifunctional furniture, such as made to measure benches with built-in storage, is a great way to capitalise on extra garden space while creating a desirable laid-back look that you and your guests will love.
2. Introduce a Soft Colour Palette
First and foremost, the garden should be a place that sparks joy and brings serenity. Harnessing the power of colour psychology through a pastel colour palette is an effective way to uplift smaller spaces and create an enviable aesthetic. More than this however, muted pinks and pale blues trick the eyes into believing that your garden space is larger. Softly coloured accents such as cushions, rugs, table covers and blankets can have an instantly transformative effect on more compact gardens and create a space you'll want to revisit again and again.
3. Remember That Paving Matters
Patio areas offer the perfect zone to dine, socialise and take in the beauty of your surrounding plants, however for smaller gardens, the colour and size of your paving stones or tiles can really make a difference. Lighter, larger paving stones offer the look of additional space and help to craft a beautiful and timeless look for your smaller outdoor area. Light grey and white-coloured tiles reflect natural light and evoke a fresh, minimal and welcoming feel that will look extraordinary for your post-lockdown celebrations.
4. Keep Your Lawn and Shrubbery Pristine
Overgrown lawns and shrubbery are two of the more significant horticultural elements that can encroach on valuable garden space and create a more crowded environment. To keep your lawn looking pristine ahead of your reunions while enjoying a seamless mowing experience, our battery lawnmowers with rear rollers allow a fast, convenient and enjoyable mowing experience, even in compact landscapes. The Harrier 41 60V is perfect for cutting a small lawn up to 300 square metres, with a 41cm cutting width and variable drive speed, it helps you maintain your lawn with minimal effort.
Toro's high-performing power tools including the cutting-edge Toro® Hedge Trimmer are the ideal solution for keeping your hedges looking immaculate and reclaiming your garden space. With a dual-action cutting system and ergonomic Comfort Grip, this simple to use strimmer allows maximum control and delivers a clean trim every time.
5. Opt for Vertical Plants
There's nothing quite like a garden filled with a mix of stunning outdoor plants that immediately catch the eye; however, with smaller spaces the key is to think vertical. Taller, slimmer plants instantly draw the eye upwards, creating the illusion of wider space. These plants also physically occupy far less ground and leave more room for exciting textiles and furniture.
Following the latest government updates, we're hopeful that brighter days are on their way and a world of excitement awaits for many this summer. Whether you're renovating your space to welcome your favourite people to your home or simply giving your smaller garden a refresh for yourself, we hope you have a fantastic time and create the garden you've been dreaming of.
Discover more useful tips and stunning garden inspiration with Hayter® today.