National Garden Week Tips
28 April 2022. 01.51 PM
Back to blog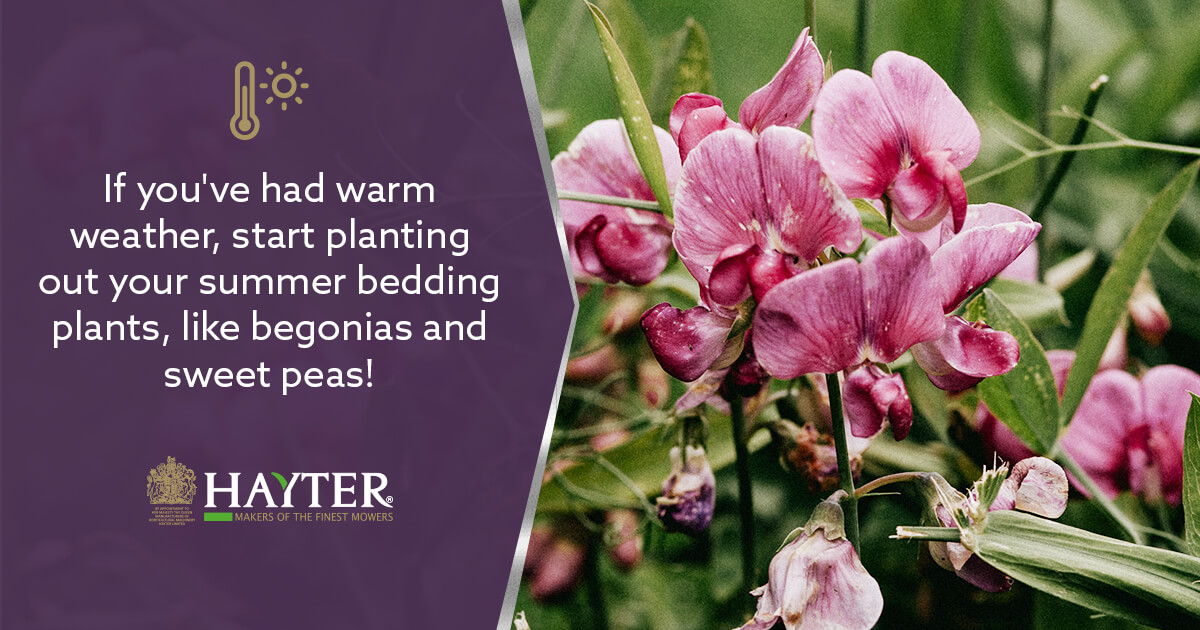 It's National Garden Week this week in the UK! This week gives you a great excuse to get out in the garden and get it prepared for that great British summer that we all know and love. Whether you're caring for a vast estate or homely garden patch, this week is the perfect opportunity to give your pride and joy some TLC.
At Hayter, we know exactly how important a well-kept lawn is to your garden. However, if you're looking to get the perfect garden this summer, there's much more to be done than simply mowing the lawn!
With that thought in mind, we've put together a to-do list that you can carry out this week in order to ensure your garden is a happy habitat for family and friends as well as flora and fauna! So, what are you waiting for? Get out there!
Prune the Hedges
If your garden is home to evergreen hedges, now is the perfect time of year to give them a good pruning. Trim back the top and sides of your hedges to keep them uniform – if you're dealing with formal hedges, then ensure your cut tapers, so the bottom is wider than the top. Just make sure you check for nesting birds first!
Plant Tender Veg
Now summer is arriving, it's the perfect time to plant out your tender vegetables. These are vegetables that can only thrive outside in summer, such as courgettes, squash, runner beans and tomatoes! Now the risk of frost has passed, get your tender veg planted!
Feed Your Turf
If you can, water your lawn every day, but be mindful not to drown the grass. Try to avoid watering your grass during the hotter parts of the day; if possible, water your grass early in the morning or later at night. We recommend early morning, and using a sprinkler if possible to ensure even water distribution.
Plant Summer Bedding Plants
It's also the perfect time to plant out summery flowers to add a pop of colour to your garden! If you've had warm weather in your area, now is the right time to plant out summer bedding plants such as begonias or sweet peas.
Pest Control
You may be noticing more insects and pests taking up residence in your garden as the weather begins to heat up. Aphids like greenflies and blackflies can stunt the growth of your plants, and invite disease. Try combining diluted soap or washing-up liquid in a spray bottle and spraying directly onto your plants to ward them away.
Divide Your Bulbs
Keep an eye on spring-flowering bulbs such as daffodils – if over-crowded patches have cropped up in your garden it may be worth lifting and dividing them. Clumps of daffodils can lead to poor flowering, so now is the right time to divide them across your garden.
Watch the Weeds
Watch out for weeds – the warmer weather encourages weeds to take advantage, and without proper prevention, they can quickly overrun your garden. We recommend hand-weeding your newly-emerging flowers, and hoeing between rows of seed beds in order to limit the impact of weeds.
With a task a day in the Hayter gardening week to-do list, we're sure you'll all be kept busy over the next week! If you've got even more spare time on your hands, the good people over at the Royal Horticultural Society have even more
top tips
to keep your garden ticking over!
If you're still at a loose end, now is the perfect time to ensure your mower is in tip-top condition! If your mower will be getting used regularly this summer, it's even more important to make sure it is performing as well as it can be! Find your
nearest Hayter dealer
for a service.