Mower Maintenance: 5 Ways to Keep Your Petrol Mower Running Like a Dream
02 August 2023. 09.10 AM
Back to blog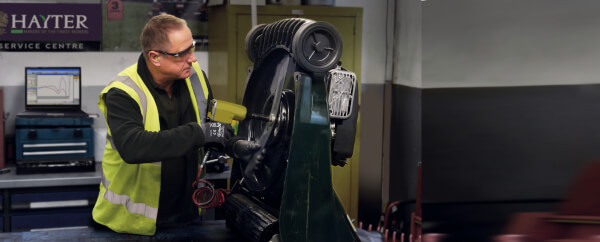 5 Ways to Keep Your Petrol Mower Running Like a Dream
When you buy a Hayter® mower, you're investing in a high-performance machine designed to be operated and looked after with care and attention. Maintaining your mower is therefore a crucial aspect of the ownership experience – but do you know how to maintain your petrol lawn mower?
To ensure your mower's warranty remains valid, you must get your mower serviced at least once every 12 months. However, there are steps you can take to ensure your mower is operating at tip-top levels between services. Here, we'll take you through five simple steps to ensure your machine is working at its full potential all-year round.
1. Always use the right fuel
The first step to maintaining your petrol lawn mower is using the right fuel. Our Harrier® 41 Petrol Push Mower uses unleaded petrol. Using diesel will cause the engine to fail and require repairs.
In late 2021, the UK made the transition to E10 petrol, which contains a higher level of bioethanol. All of our current mowers are compatible with fuels up to E10, but please check with the engine manufacturer for older Hayter machines as they should not be used with fuel containing higher levels of ethanol.
Additionally, you should always double-check petrol levels before mowing. Petrol deteriorates over time as the most volatile compounds evaporate. Depending on the age of your fuel, this could prevent your mower from working.
For more information about fuel compatibility, treatment and storage, head over to our dedicated blog:
https://www.hayter.co.uk/blog/revealed%3A-the-benefits-of-transitioning-from-e5-to-e10-petrol
2. Monitor and refill the engine oil
Monitoring the oil level is another great way to stay on top of your mower maintenance. Just like any other machine, your lawn mower's machinery needs oil to keep internal mechanisms well lubricated. You can typically tell if your mower's oil needs replacing if the oil is discoloured or has debris in it. Engine oil will often turn a charcoal black colour when it needs replacing.
Hayter Top Tip: We'd recommend changing your oil at least once every year to ensure maximum performance.
It might seem intimidating if you're not a natural born mechanic, but changing your machine's oil is quite simple. You can find out how to do so here, on our FAQs page, or there'll be a full step-by-step guide in your manual.
3. Clean and replace the air filter
All manner of debris can be found on a lawn. If the grass is long enough, you won't be able to see the rocks and dirt. The air filter on a Hayter mower acts as a safety barrier between debris in the air and the engine, and your lawn mower would be in quite a bind without one.
To make sure your mower is in good shape all-year round, ensure you're regularly cleaning and replacing the air filter. Just take it out and give it a once over with your vacuum cleaner, and it will look good as new! This can be a handy fix if you're in a quick bind, but you'll want to replace your air filter once every year for maximum performance.
4. Regularly sharpen the blades
If you're confident with your mower, you can also ensure proper performance by sharpening your mower's blades. You can do this by removing the blade from the mower and sharpening it with a flat hand file. It will be necessary to disconnect the spark plug before starting – details can be found in your operator manual.
Be sure you carefully read and understand the operator manual's blade maintenance and safety sections before starting. There, you'll find a detailed guide on how to safely and properly remove, sharpen, assemble and balance the cutter blade before you start and that there's no risk of turning your mower on.
Remember to also wear thick gloves and be prepared to buy new blades if they are extremely old or damaged.
When you book a yearly service at one of our approved servicing dealers, you can expect to have your blades sharpened as part of the service!
5. Keep on top of your servicing!
Even if you're confident carrying out small DIY fixes on your mower, it's crucial to get your mower serviced at least once every 12 months. Hayter mowers are high-performance machines, and whilst you might be able to carry out minor fixes, you should leave the big stuff to the pros.
Your Hayter warranty requires the mower to be serviced annually by an Authorised Hayter Service Dealer in order to remain valid – so it's paramount that you keep on top of your service dates. The winter months are the perfect time to book a service, so you can get your mower in tip-top condition ahead of the mowing season.
Find your nearest service dealer here:
https://www.hayter.co.uk/locate-dealership
Looking for more? Explore our range of accessories – including 6.0Ah Battery (60V), SAE 30 4-Cycle Engine Oil and Premium Fuel Treatment – today!