Is Your Garden Summer Ready? 6 Steps to Turfing Your Dream Lawn
30 March 2023. 09.54 AM
Back to blog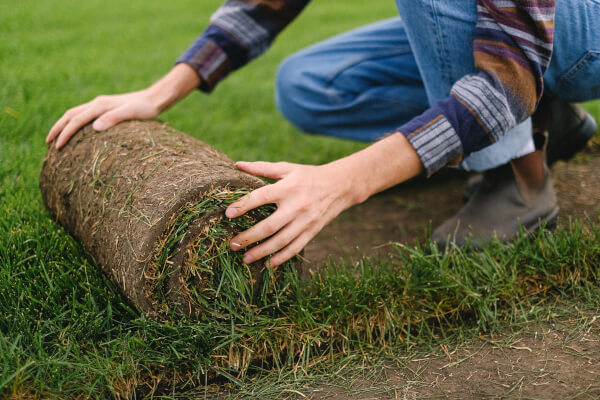 Grass doesn't grow overnight. No matter how much you want that gorgeous green space, it takes time to grow and nurture your own lawn. Turfing could be the perfect solution!
Turf is an instant lawn you can measure and install straight away. It's completely natural, and with the right preparation and care, you can enjoy it as you would any grassy field.
Here, we'll take you through six simple steps to help get your dream lawn.
Step 1: Ordering
The first step is ordering your turf. To ensure you get a high-quality turf check to see if your retailer is approved by the Turf Growers Association (TGA).
Natural turfs are a better option than artificial ones as they produce oxygen for the environment, absorb rainfall and are the perfect place to rest or relax. Whether you're more interested in playing sports with your little ones or relaxing with a book during sunset, natural is the way to go.
Before ordering your new turf, make sure you measure it appropriately. Remember to write down the exact measurements you need and give this to your retailer. Once it arrives, plant it within 24-hours and keep it out of direct sunlight in the meantime to avoid drying out.
Step 2: Preparation
Just like anything else in life, preparation is key to achieving the perfect turf. The ground you're planting on needs to be cleared of any weeds or stones as these will disturb the turf and stop it from flourishing all-year long.
Then, take a spade and freshen up the ground. Take the top layer of soil – roughly up to 15cm from the top – and turn it over with your gardening tool. This will ensure your turf has the perfect base on which to blossom!
Step 3: Raking
Next, you'll want to make sure the ground is level and ready for the turf. Choose your favourite rake and drag it across the newly turned soil. Not only will this create a flatter surface, but it's also a great time to add some pre-turfing fertiliser.
Before moving onto the next step, put on your outdoor shoes and walk over the raked soil. If there are any areas that feel softer, go over these with the rake and repeat until your lawn is ready for the new, natural turf.
Step 4: Laying
Now you're ready to start laying the turf. Once the soil is prepared, unroll a strip of turf and lay it across the longest run of your lawn. Repeat this process until you're happy that everywhere is covered – you may need to cut some pieces with a knife to make sure they fit.
There are three important things to remember while laying down turf:
Never walk on your soil or turf – use wooden planks to work on instead.
Don't use small pieces of turf at the edge of your garden as these are more likely to dry out.
Make sure the undersides of all the turf strips are touching the soil.
Step 5: Caring
If you've planted turf between March and October, water it thoroughly within 30 minutes of laying it. You can generally leave it a little longer during the winter months, but it's best to get this done within the first few hours.
New turfs also require two hours of watering per day. That may sound like a lot of time, but it's worth it to have a nice lawn in the long term. And if you ever see any dry, brown patches, be sure water them straight away.
Water isn't the only thing your new turf will need. Fertiliser will help your new garden thrive – Nitrogen, Phosphate and Potash are good when applied every four-to-six weeks. By following these steps, you're more likely to enjoy a long-lasting, healthy turf.
Step 6: Mowing
There's nothing like a freshly-mowed lawn. Clean-cut and ready for any occasion, your outdoor space can be enjoyed by your friends and family all-year round. But before starting, check to see if the turf has rooted to the soil by lifting a corner.
Once you're happy the turf has settled, use your Hayter lawnmower to regularly cut a maximum of one-third of the grass height. Then, you can gradually cut more and more, between 15mm and 35mm. Just be sure you're not scalping the new turf!
These are the six simple steps to help get your dream lawn! Turf might seem intimidating at first, but with the right care you can have a long-lasting and healthy lawn of grass to enjoy. Be sure to explore our range of lawnmowers and Toro Flex-Force power tools, so you're ready for the job.
Sources
https://turfgrass.co.uk/2020/09/30/the-benefits-of-turf/
https://turfgrass.co.uk/2022/07/08/step-by-step-guide-to-turfing-your-new-lawn/