International Women's Day 2022
07 March 2022. 11.20 AM
Back to blog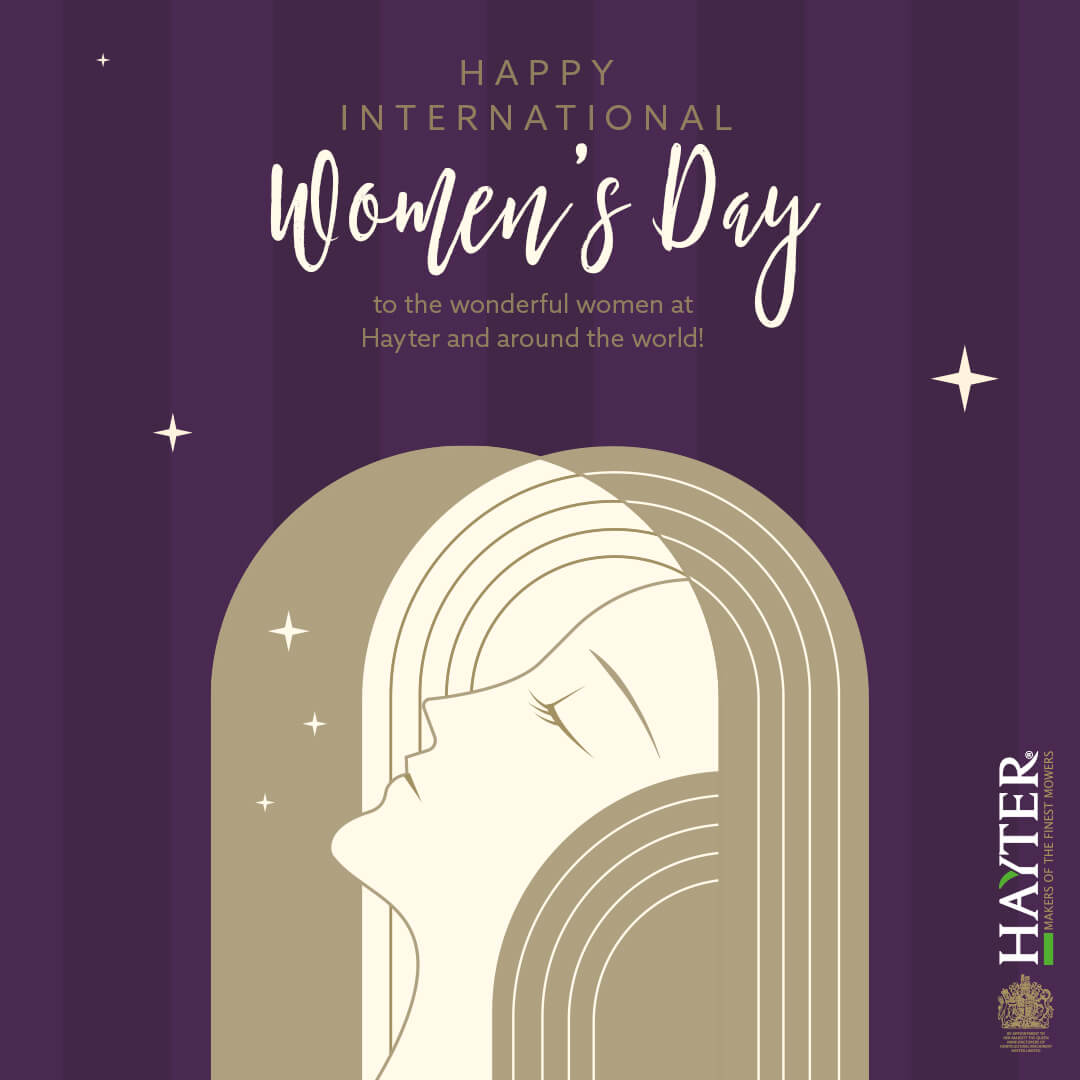 International Women's Day is here! At Hayter Mowers, we've always appreciated and understood the strength and drive of the women that have made our company what it is today. From Susan Hayter, the wife, muse, and support system for our founder Douglas, to the many wonderful women working throughout the company today, our female friends, colleagues and clients are a key aspect of what makes Hayter, Hayter.
But whilst women throughout history have shared the Hayter love for gardens and gardening, it hasn't always been easy for women to make a path in our field (no pun intended). There is little existing history that speaks of female gardeners before the early 20th century – and even then, garden design, landscaping, and horticulture were seen as male activities, and could not be trusted to women.
With that thought in mind, we're today celebrating some famous female gardeners throughout history that helped pave the way for the women working and thriving at Hayter today.
Gertrude Jekyll (1840-1932)
Perhaps the most famous female gardener, Gertrude Jekyll was a prolific garden designer in a time when Edwardian standards would have looked down on her career choice. Having originally trained to be a painter, her artistic flair manifested itself throughout her stunning garden arrangements.
Jekyll's gardens displayed a subtlety that was rarely on show amongst gardens designed by her contemporaries. She helped facilitate a move away from formal, garish bedding to a more natural, herbaceous planting style, and is credited with the design of over 400 gardens across England, Europe and North America.
Jekyll opined that simply having a great selection of flowers did not constitute a garden – only by placing every plant with 'such thoughtful care and definite intention that they shall form part of a harmonious whole' could one achieve a garden.
Edith Vane Tempest-Stewart, Marchioness of Londonderry (1878-1959)
The gardens at Mount Stewart in County Down, Northern Ireland, have been heralded by the National Trust as one of the most celebrated and original gardens of the 20th century. Between 1917 and her death, Edith Vane Tempest-Stewart was responsible for elevating the gardens to their present state.
Taking cues from gardens across the globe to put together a uniquely stunning array of plants and flowers, Edith imbued the gardens with rich symbolism and theatrical imagery to create an intensely personal garden that is still valued and revered to this day.
Beth Chatto (1923-2018)
Born in 1923, Beth Chatto's lifelong passion for flowers and gardening saw her create a winter garden for the Royal Horticultural Society, hold her own exhibit at the Chelsea Flower Show on 'Unusual Plants' and, ultimately, create her own nursery and gardens.
Coining the phrase 'right plant, right place,' which would inform her award-winning garden design, Chatto arranged her plants according to their individual needs rather than to achieve maximum visual impact. Her modus operandi would be a revelation and informed the more efficient, environmentally-friendly gardening techniques we see today.
She won countless awards, and her enduring legacy is characterised by the continually thriving Beth Chatto's Plants and Gardens, which provides a source of joy for gardening enthusiasts to this day.
Vita Sackville-West (1892-1962)
While not a gardener by trade, Vita Sackville-West spent years curating and cultivating a garden at Sissinghurst Castle that has become known as the embodiment of modern British gardening tradition.
When working on her gardens, she followed firm principles. Firstly, to be ruthless – if she did not like something in her garden, she would change it. Secondly, to not be too tidy, and let self-seeded plants grow where they naturally fall. Thirdly, to have an architectural plan, a colour plan, and a seasonal plan.
The end result is a wonderful garden informed by subtle colours and informal planting schemes, that is, to this day, a haven of peace and beauty.
Laura McLaren (1854-1933)
Having helped her father renovate the garden and estate at Bodnant Garden, it was natural that, upon inheriting the estate, Laura McLaren would continue to develop the garden.
Developing the wild garden at the Garden's far end, she incorporated herbaceous plants to a greater extent and began to renovate the upper formal gardens in the newly-established Edwardian style, with billowing flower borders.
Now, her vision has endured, and the garden remains a hub of tranquillity and relaxation, with intimate corners, sweeping lawns, grand terraces and verdant woodland. Offering both rarity and beauty against the stunning backdrop of Snowdonia, the joy Laura brought to Bodnant Garden is still on show to this day.
As well as their passion and talent for horticulture and garden design, one thing that many of these women have in common is their drive for feminism and women's rights. McLaren in particular was a prominent suffragette, whilst the others' willingness to make an impact in a field in which they were not traditionally welcome helped pave the way for female gardeners today.
We wish all of our readers a happy #InternationalWomensDay2022 – we've not reached equality yet, but we hope we're taking steps in the right direction.